Getting started
Nothing works. What can I do?
Get in touch with us via: Zendesk, Facebook, Twitter, G+ or email support@rizzoma.com
How to create a new document?
Click the New button to create a new document. Wizard tool will help you to create a topic name, add participants and sync your your Google contacts with Rizzoma using one form.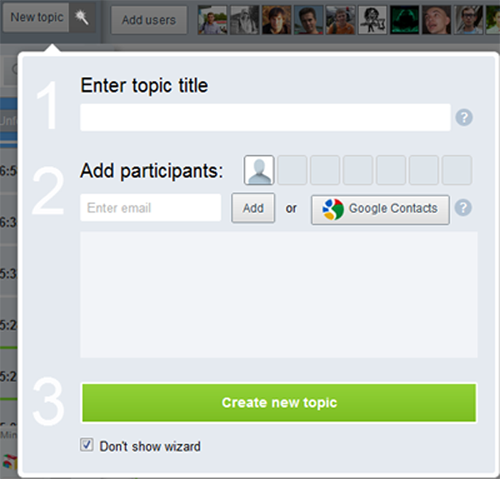 To create a new topic without Wizard tick the box "Don't show Wizard" in the bottom of the form and click the New button again.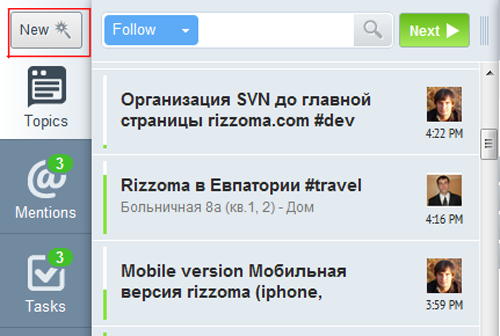 Type a topic name on top of the document and it will be shown in bold.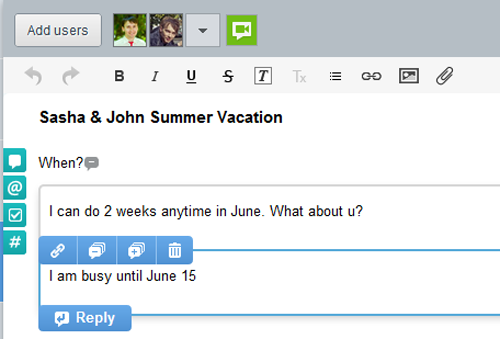 Who can see a created document?
All new topcis are private by default and only added participants can see them. Use the SHARING SETTINGS button to make it public or available to anyone with a link.

How to edit and save a document?
Rizzoma is always in editing mode. All changes are saved automatically. If you lose the connection you can continue typing, but the changes will be saved when connection is restored and "Synchronizing" message goes away.
How to add new participants?
Click Add Users button and enter email to invite new participant. Everyone who joined the discussion can see what others type.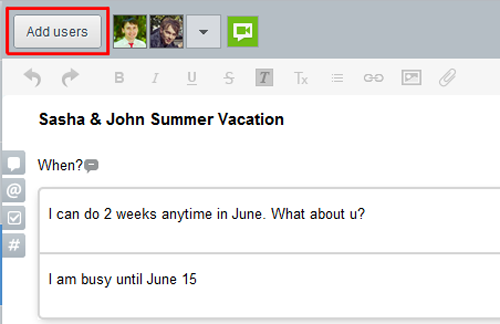 How to edit a text of another author / who can edit my text?
Anyone who joined the topic can edit all the messages. A userpic of a message creator is shown on the right.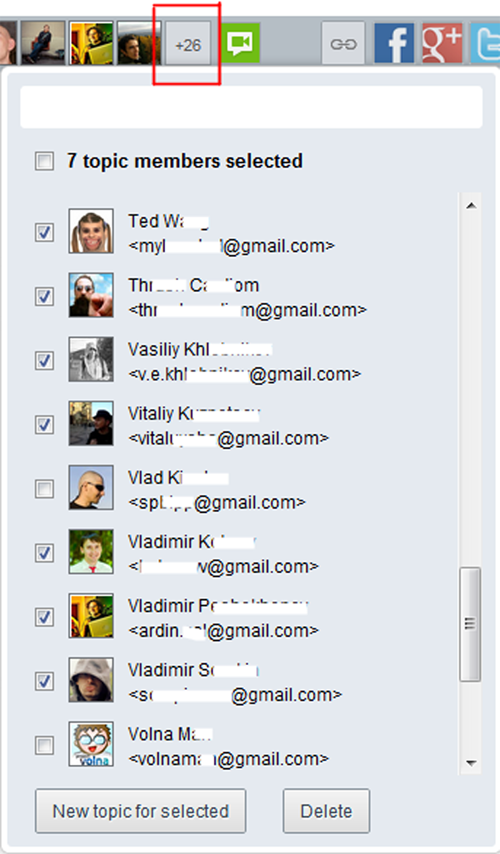 Highlighting of the cursors of editors and recent changes is coming soon.
How to protect a document from changes?
This feature is being added at the moment.
How to comment?
Place a cursor where you want to make a comment and click Reply button or press Ctrl+Enter.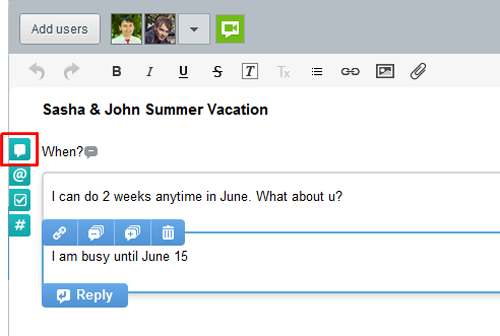 Can I use copy/paste if I want to move text with comments?
Yes, simply highlight the text and comments you need to move and use Ctrl+X and Ctrl+V shortcuts.
How to attach images and other files?
To attach a file to a message use Insert Image/Attachment buttons. The upload limit is 50 Mb per user. All files are safely stored by Amazon S3 Storage Service. To increase storage, please contact us. You can also use any third-party file storage and attach your files to Rizzoma with URL.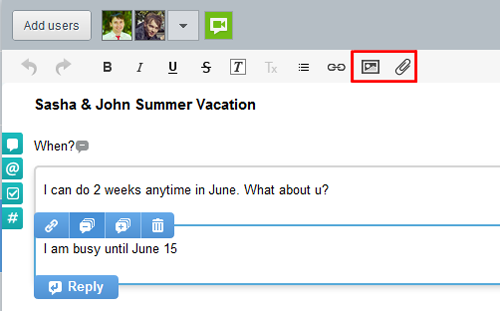 How to delete a topic?
This feature is being added at the moment. You can delete all the information from the document and unfollow it to remove it from the list of topics. To unfollow a topic place a cursor over it in the Topic List and press Unfollow button.