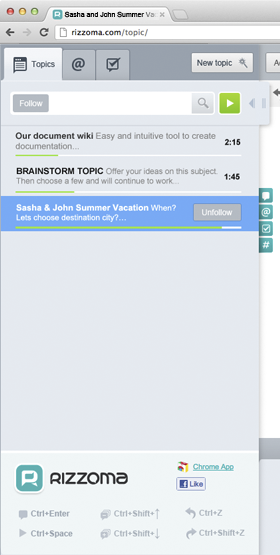 Edit in realtime
You can work on one word together in realtime, with Rizzoma you don't have to wait and you don't need Save button.
Solve tasks in Context
Assign tasks in any place of the document.
Share document easily
Choose any way you like: add people using email, send ShareLink via Skype or make a document public.
Follow realtime activity stream
Last changes are automatically go up in search panel. You don't need broadcast mail lists and other notifications that overload you inbox very fast. You can unfollow irrelevant discussions.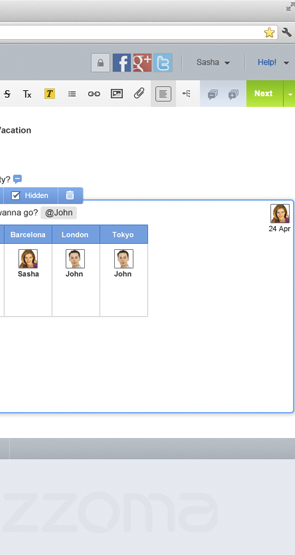 Google Calendar integration
Task automatically goes into your Google Calendar. You can work with it from Android or iOS device and set free notifications by sms.
Mindmap view
Structure information and visualize ideas by switching to mind map view. What's more, you can easily rearrange topics by using drag & drop.
Gadget support
Rizzoma will support opensocial gadgets. Simply install any of the numerous useful gadgets, such as polls, diagrams, drawings, etc. and you are ready to go.
Integration with other Aglie tools
Many Rizzoma users ask about integration with Kanban desks, Scrum tools and others. We surely will make these integration start from most asked ones.