Mac
Windows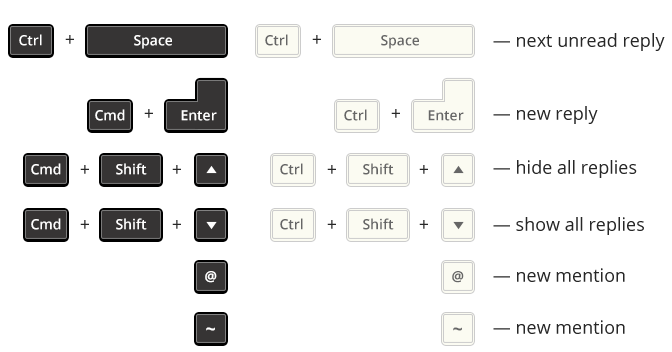 Rizzoma interface tips
- To notify someone by email insert the @ symbol and start typing a name.
- To set a task insert the symbol "~" and start typing a name.
- If you don't know the email address, use the "Share" button for private share.
- Fast screenshot uploading (Chrome only). Read here.
- To copy a link to any topic, right click the topic name in the topic list. How-to link.
- How to structure a document and use replies.
- Click any place in a document and press the Insert Comment button (Ctrl+Enter) to leave a comment. How-to link.
- Use 2-click to select a word and 3-click to select a pragraph.
- To show a message minimized for anybody opening the topic use the Hidden checkbox.
- How to group topics in folders (Chrome, Firefox and Safari).
- To use more space while working with the document hide the Activity panel in one click.
- Reply to notifications right from email to respond immediately.
- Link to a topic or even to an exact message sometimes easier to copy from the browser address bar.
- A properly reported bug is considered half-fixed already. Read how to create a perfect bugreport.
- To search inside a topic expand all messages (Shift+Ctrl+Down), press Ctrl+F and type a word.
- To insert Votes tool, MindMap diagram, LaTex formulars use gadget button.